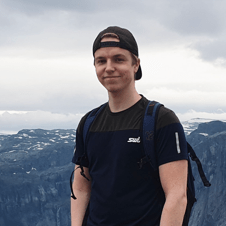 Øyvind Engvoll
Team Leader Automated Warehouse
My role as team leader in the Warehouse at Brav involves ensuring full operation of our automated warehouse. I make sure that the operators have the competence they need to perform, and that we are accurate and efficient when picking orders for our customers. I also continuously correct issues that occur to make sure that the downtime of the automation is minimal.
I have a background from media and communication. In addition I have completed some subjects from nursing school, such as "psychiatry" and "people, health and society". I have also worked as a swimming instructor and completed a number of lifesaving courses and HMS/HSE courses. After working in various sectors, I became interested in logistics, and joined Brav in 2018. Now I have earned a license in logistics.
The best thing about working at Brav is to be able to be an important piece in a well-known company with strong brands. Furthermore, it's fantastic to be in a working environment where we continuously make each other good, while at the same time having fun.