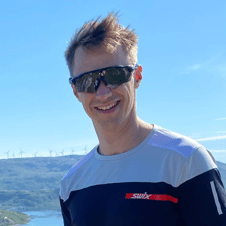 Håvard Rønning
Creative Content Developer
As a Content Developer at Swix, my workday encompasses various tasks - from managing Swix's social media channels to ensuring our numerous ambassadors have everything they need. A part of my responsibility is to facilitate seamless collaboration through various mediums, such as content creation, podcasts, photoshoots, blog articles, and more. I host the podcast "Skisporet" where we let the listeners get to know the big stars of cross-country skiing.
With a background in journalism and over a decade of experience in communications, I spent eight years as a video journalist for VGTV, where I closely followed the cross-country skiing world. Now, I'm fortunate enough to continue following this thrilling sport as part of the Swix team.
Working for Brav, I particularly appreciate the opportunity to be part of an outdoor brand that allows me to merge my genuine passion for cross-country skiing and ski sports with my professional life. This perfect blend ensures that my job remains engaging and exciting every single day.